$345 million. This is the value of military aid for Taiwan that Washington announced on 28 July 2023. Another pebble in the garden of Beijing, which considers the island of Taiwan to be an integral part of the nation, and hopes to reunify the province with Chinese territory. As with the USA's provision to Ukraine, this military equipment will come straight from US Army stocks, a sign that the Americans consider Chinese military action against Taiwan to be a possibility.
This may all mean that nothing will ever come of the two biggest Pacific powers' declared willingness to re-engage in dialogue. Their rivalry is strategic as well as economic and industrial (especially regarding microchips), and extends into cyberspace and under the sea.
The US actually decided several years ago to be proactive in blocking China's ambitions on submarine internet cables. And here, too, Taiwan represents high stakes for the two powers. With 14 cables, four cable landing stations and two large data centres, the island is one of the major hubs in this region of the Pacific. An asset for the territory, but also a weakness – especially in the event of conflict –as it is totally reliant on these fragile infrastructures.
However, Chinese-American rivalry in this field stretches well beyond Taiwan, because China has included the development of cables in its "New Silk Road" strategy since 2015. 
Chinese cables: Huawei, a smooth operator
So what is the goal of this "Digital Silk Road"? To back up physical trade routes with digital highways, in order to create synergies and tie the participating countries more firmly into China's economic, and even political, orbit. The idea was also to avoid being reliant on western infrastructure in the event of tension, or even conflict, with Washington and its allies. With the same perspective, the plan was also to deploy cables all over the Pacific, which would extend and consolidate the area of Chinese influence in the region.
A smooth operator was on hand: Huawei Marine Networks, an offshoot of Huawei. Before 2019, the company had managed to capture 15% of the submarine cable market. However, with its 5G infrastructure and consumer products, Huawei was a real thorn in Washington's side. When sanctions rained down thick and fast, Huawei transferred its cables division to Hengtong Optic-Electric Co Ltd, a company subsidised by the Chinese government to lay cables, and which renamed the division HMN. 
This change of stakeholder did nothing to cool the warlike zeal of the US towards the operator. Washington fears, just as it did with 5G equipment, that Beijing is taking advantage of this infrastructure roll-out to spy on US communications. For the US, the key mission is to defend and extend its own area of influence in the Pacific, in the face of Chinese ambitions. It uses the classic strategy of "containment", and in some cases even "roll-back".
When Washington sabotages American projects
With this in mind, the "Clean Network" initiative was launched in 2020, aimed at prohibiting any direct trans-Pacific link between the two rivals. The immediate result was that Washington blocked the licence for a cable that was in the process of being laid by Meta and Google, between the USA and Hong Kong. In the end, the "Pacific Light" went into service in 2022, but reaches no further than the Philippines and Taiwan.
Similarly, in 2018 the Americans had blocked a project between Meta, Amazon and China Mobile, due to the latter's involvement. It would have linked the US west coast to Singapore, Malaysia and Hong Kong. In 2021, Meta and Amazon restarted the cable project without the Chinese partner, and removed Hong Kong from among the landing points. However, it was a wasted effort, despite the fact that 12,000 km of cable for the "Cap-1" link had already been laid: Beijing's involvement in the initial version of the project was enough to mark it for life. 
The same year brought a new setback for Beijing, which was hoping to lay cable to the islands of Kiribati, Nauru and the Federated States of Micronesia, north of French Polynesia. Unfortunately, the presence of HMN had made some investors jittery and compelled Washington, Canberra and Tokyo to make a competing offer, which was selected in the end, to China's fury. In this way, Washington's strategy excludes Chinese operators from international consortia with US participation, while also seriously putting the brakes on China's participation in any project in the region.
Finance and entertainment under threat
There are many examples of joint ventures which, despite having no financial or geographical link to the USA, have sworn off including HMN or Chinese telecoms operators in their funding rounds. 
Despite these setbacks, Beijing is not giving in, and is expending considerable effort to hold firm in the face of pressure from Washington. For example, projects for submarine internet links that pass through Chinese territorial waters are increasingly subject to antagonism from Beijing. Even more bothersome is the fact that this policy applies not only in internationally recognised waters but also in areas being claimed by China, which are therefore disputed. 
This means that the entirety of the South China Sea is gradually becoming a major danger zone for western submarine cables, so projects often opt to go around it rather than crossing swords with Beijing. The resulting need to use longer cables has financial consequences for the operators, but also impacts on connection speed, which is an issue for end-users, particularly finance companies and the entertainment giants (YouTube, Netflix, Amazon).
One example is the Southeast Asia-Japan 2 (SJC2), a 10,500 kilometre submarine fibre-optic cable between Japan and Singapore, which was supposed to go through the South China Sea. Reluctance on Beijing's part for reasons of "national security" has delayed the project which should have been delivered in 2020. The best hope now is that it will become operational in 2024.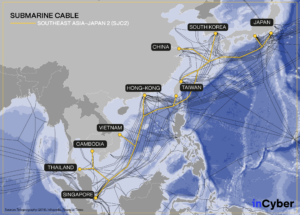 Bypassing the South China Sea
Although the deployment of several other cables (Echo, Bifrost) is under way in the region, some operators have decided to go around it, for example Meta, Google and NTT, the main partners of Apricot. Theirs will be the first intra-Asian cable to avoid the South China Sea and instead go via the eastern waters of the Philippines and Indonesia.
However, not content with simply blocking its adversaries, Beijing is also conducting counter-offensives. As Reuters revealed in April 2023, China's three biggest operators – China Telecommunications Corporation (China Telecom), China Mobile Limited and China United Network Communications Group Co. Ltd (China Unicom) – are preparing to launch a submarine fibre-optic mega-project, with the cables to be laid by HMN. 
For an estimated cost of half a billion dollars, "EMA" (Europe-Middle East-Asia) is set to connect Hong Kong to the Chinese island of Hainan, then touch land in Singapore, Pakistan, Saudi Arabia and Egypt, among others, before ending in France. This route is practically identical to that of the SeaMeWe-6 (Southeast Asia-Middle East-Western Europe-6) project, led by American company SubCom. Which is no surprise, since SeaMeWe-6 originally had the three Chinese operators on board, plus HMN as the cable-layer, until the USA "put things straight" by piling pressure on the project's non-Chinese partners.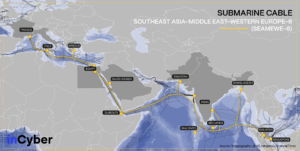 An undersea clash between two blocs
As things stand, EMA has announced that it has drawn up agreements with Orange (for France), Pakistan Telecommunication Company, Telecom Egypt and Zain Saudi Arabia, a unit of Kuwait's Mobile Telecommunications Company. The cable would provide Beijing with a super-fast link to the rest of the world, and make China less reliant on western infrastructure.
It is far too soon to be counting chickens, however, as the cable is only due to become operational in 2025. That leaves ample time for Washington to put a spanner in the works. As a result, the countries due to be served by both cables may be forced to choose between SeaMeWe-6 and EMA.
Behind the Chinese-American rivalry looms the spectre of the "splinternet", i.e. a fragmented internet: "It seems we are headed down a road where there will be a US-led internet ecosystem and a Chinese-led internet ecosystem," as was explained to Reuters by Timothy Heath, a RAND Corporation researcher who specialises in Defence issues. The immediate consequence would be a downgrading of the service quality, which relies above all on the smooth interconnection of all the internet routes.
This cold war over submarine infrastructure would also make it easier for each bloc to control the content that it makes available to its population. Already today, the use of TikTok is restricted in the USA, and western social media networks are not allowed in China. Lastly, although parallel infrastructures will make it more difficult for one bloc to spy on the other, it will be easier for each bloc to monitor its own population.
Without our being aware of it, part of the global equilibrium, and part of the freedom of the world's populations, hangs on a fibre thread under the sea.